Executive Chronicles | The Top Catholic School for Boys in Makati is Definitely Don Bosco Makati | by Homerun Nievera | I may be speaking for myself but hey, I am an alumnus! Who else can say this but someone who's walked the halls for Don Bosco Technical Institute (or DBTI), in Makati City? But first, here's a brief history of Don Bosco Makati. Read on!
About Don Bosco Makati in Brief
As a private Catholic educational institution, Don Bosco Technical Institute in Makati, or simply Don Bosco Makati, is owned and run by the Salesians of Don Bosco (SDB). Located in Chino Roces Avenue in Makati City in the Philippines, this address serves as the campus' primary location. Father Carlo Braga, SDB, as Provincial of Don Bosco Makati, set down the foundation's cornerstone in January 1954. Construction of the first building, which included the convent, a youth center, and an auditorium, was completed in the same year. It was at this time that the Youth Center was opened by Salesian priests such as Father Quaranta, Father Jua, and Father Righetti, together with Brother Nicolino Tambascia. Classes for children and adults alike began immediately in January of that same year. The Grade School building was completed the following June. First-year students in grades 5 and 6 were allowed to enroll. The first Don Bosco Makati graduates were the first thirty-six (36) students from Grade 6.
My Life in DBTI
My first entry into Don Bosco Makati was for my Preparatory studies. I remember vividly how my mom talked to me before she left for work, telling me that I'd be ok since my older brother was there. I breezed through my first few years, earning medals and awards. I was not really that diligent, but I was competitive in many ways. I joined the basketball team and learned volleyball and even soccer. I wasn't really an athlete, but hey, I was really that competitive.
What Don Bosco taught me was how to balance studies and extra-curricular stuff. There was a lot to do as it is a big campus. My Kuya (older brother) and I were fetched in the early evening as my dad had to come from his work, all the way from the old Magnolia Plant in Aurora Boulevard, in Quezon City. This gave me a lot of things to do after dismissal from class. In fact, I learned to be an entrepreneur from Don Bosco, as I collected soda bottles in the afternoon to get the "deposit" from the school canteen. I also learned to rent out comic books in the afternoon as many students waited for their school bus, guardian, or parents to fetch them.
There were a lot of clubs available for you to join. I joined the Glee Club, as my teachers said I was a good singer. I was also fond of the library and discovered the Hardy Boys series. When they ran out of Hardy Boys, I read Nancy Drew and finished reading all of them as well.
Admittedly, I was interested in joining the priesthood. I joined the Junior Aspirants Club but later thought it wasn't for me.
Until today (in my 50's), I still carry with me the Catholic foundation of being a Bosconian. Yes, I was mischievous in my younger years, but my mom was very strict with us keeping high grades, so I studied hard. This discipline is still in me today.
Technical training is an integral part of being a Bosconian and it is part of the main curriculum from Junior High School. Though I left Don Bosco for U.P. Integrated School right after grade school, let me just share the current curriculum for Junior High School. Here it is:
Junior High School Curriculum
Don Bosco Technical Institute-Junior High School is a Catholic school for boys in the lower level of high school. The facilities in the academic, technical, spiritual, and athletic fields are all up to date.
Math, Science, English, Filipino, Araling Panlipunan, Christian living, and MAPEH are all part of the curriculum of Don Bosco Makati, which is set by the Department of Education. With this, the student gets both an academic and technical education.
For the 7th and 8th grades, the curriculum includes general technology (electronics-electrical technology, automotive-mechanical technology, computer technology, and industrial drafting technology).
In grades 9 and 10, students choose one area of specialization based on the results of an exam, their quarterly grade, and their own choice (the 6 specializations are listed below)
During the first two years of high school, a Bosconian learns about measurements, hand tools, and light power tools used for light metal work and simple electrical circuits, as well as a more advanced information technology (computer subject) curriculum. In the last two years, you could choose one of the following technical specializations:
Automotive Design Technology
Electronics Design Technology
Creative Design Technology
Mechanical Design Technology
Electrical Systems Design Technology
Information and Communication Technology
This narrative will never be complete without telling you something about the founder, Saint John Bosco. So, before closing this article, here's a snapshot of Don Bosco, which includes a Youtube video of his life.
About Saint John Bosco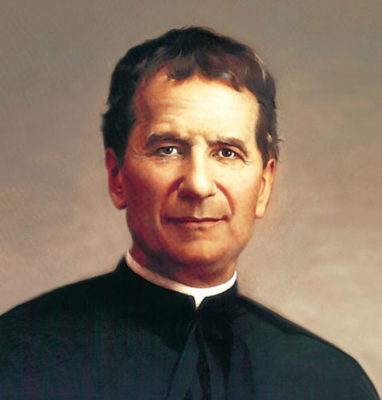 Giovanni Melchiorre Bosco, popularly known as Don Bosco, was born on August 16, 1815, in Becchi, Italy, like John Bosco, the "Father and Teacher of Youth."
John grew up going to church and becoming a dedicated follower of Christ. He experienced his first of many vivid dreams when he was 9 years old.
He saw a group of boys having fun in his imagination. He spotted a man and a woman of remarkable stature in this group of youths. The stranger informed him that he would "conquer these your friends" if he was gentle and charitable. "The lady" stated this "Keep your composure, dignity, and stamina. Eventually, you'll get it all figured out."
Soon later, John saw a touring circus of acrobats and clowns. In the end, he came to recognize that he could employ their methods to attract and hold the attention of others.
John put on a show for the kids he used to hang out with one night. At the end of the show, he gave a homily and urged his neighbors to join him in prayer.
As a result of this, he came to understand that he was meant to be a priest.
He entered the seminary in 1835 and was ordained a priest six years later.
He was sent to Turin, Italy, for his first duty. John, now known as Fr. Bosco, went off to work with the poor children.
So, he began meeting up with the youngsters where they worked and played in an effort to keep them out of the dreadful prisons.
To help the lads who were in need, he looked for jobs and accommodation.
By the 1860s, Fr. Bosco and his mother, known as "Mamma Margherita," were responsible for sheltering 800 boys.
It was Fr. Bosco's job to identify and support young men who he thought would be good priests.
The Society of St. Francis de Sales was founded by Fr. Bosco in 1859.
On January 31, 1888, John Bosco died. In 1929, Pope Pius XI declared him a saint and declared him a saint in 1934.
Apprentices, editors, publishers, schoolchildren, magicians, and juvenile delinquents all have Saint John Bosco as their patron saint. On the 31st of January, his feast day is observed.
Here's the video from Catholic.Org:
Conclusion
Don Bosco Makati is a Catholic school exclusively for boys. If you, as a parent, are looking for a good school for your son, in Makati City, search their website and Facebook Page. Hope you consider them, ok?